Middlesex 10 Hampshire 24
On Sunday 12th May 2019 we were treated to an incredibly exciting game of rugby today when Middlesex Women's XV hosted Hampshire at Grasshoppers. Both teams demonstrated superb skill and commitment in this hard fought match. Hampshire's near impenetrable defence was probably the key that allowed the visitors to claim a 24 points to 10 victory.
A thoroughly enjoyable afternoon's rugby.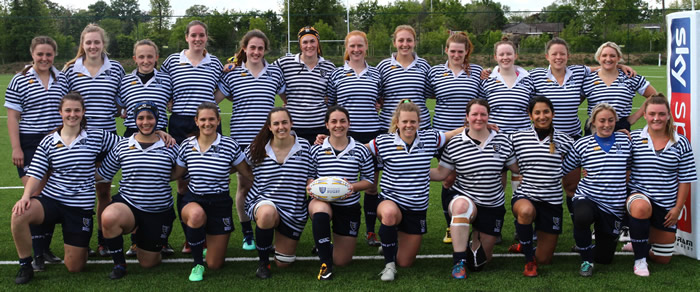 Team for Sunday 12th May 2019
1 Hattie Clapp (Hampstead)
2 Lizzie Robinson (Barnes)
3 Laura Templeman (Teddington)
4 Esteria Hiwazi (Wasps (vice captain))
5 Alex Michail(Teddington)
6 Trish Brown(Hampstead)
7 Chloe Halleday (Teddington)
8 Becci De Garston-Webb (Teddington)
9. Rachel Berry (Hampstead (captain))
10. Tess Braunerova (Richmond)
11. Sabrina Rambohul (Teddington)
12. Beth Statham (Harlequins)
13. Joanna Wells (London Welsh)
14. Lucy Smith (Wasps)
15. Grace Hicks (Harlequins)
16. Ellie Smalls (London Irish)
17. Leonoor De Winter (Kilburn Cosmos)
18. Helena Solomon (Streatham-Croyden)
19. Geraldine McGoarty (Hampstead)
20. Sophie Tulloch (Kings College London)
21. Kat Martinovic (Kings College London)
22. Em Stone (Rosslyn Park)
Coaching Team
Head Coach
Stuart Willis
Team Manager
Niall MacSweeney
Forwards Coach
Jonny Humphreys
Laurisa Robson
Backs Coach
Jake Matthews
Stevie Warr
Additional photos here:
https://www.flickr.com/photos/middlesexrugby/albums/with/72157691413108193
https://middlesexrugby.com/wp-content/uploads/2019/05/Women-v-Hampshire-20190512.jpg
2886
5130
Simon Hardcastle
https://middlesexrugby.com/wp-content/uploads/2020/03/logo-new.png
Simon Hardcastle
2019-05-10 11:32:32
2019-05-14 10:25:22
Middlesex Women hosted Hampshire on Sunday 12th May