County
Growing the game across the county
Middlesex Rugby is the governing body for rugby in Middlesex but we are far more than just another layer of bureaucracy and blazers. As well as running county representative rugby, we facilitate the playing of grassroots rugby across the county, ensuring that our clubs thrive and grow. That might mean giving a metaphorical or financial helping hand or it might mean dishing out a bit of discipline here and there. Without the structure and governance that we provide there would be no game.
Team Middlesex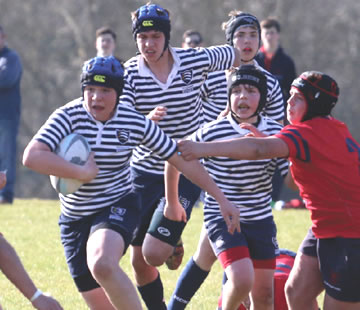 Our county representative section is made up of ten squads, providing the opportunity for aspiring players at all age groups from senior to Under 15s men, women, boys and girls to represent the county and possibly go on to gain divisional honours. The squads are split into three sections, senior, junior and women & girls, each with their own director of rugby, team managers and top flight coaching teams.
The senior women's squad has recently undergone an almost total transformation and improved to a level where they now play in the Women's County Championships.
At the junior age groups, more than 480 players from Middlesex clubs and schools are involved an initial screening process every season, of whom 320 will join a county squad at the appropriate age group, with the potential to be selected to represent Team Middlesex in grade matches against other counties. There is also a development programme for U14 players.
Every player receives top class coaching and mentoring from 36 qualified coaches as part of our player development programme.
In turn, our coaches themselves participate in their own development programme and are individually mentored to help them achieve Level 3 coaching awards.
The Community Game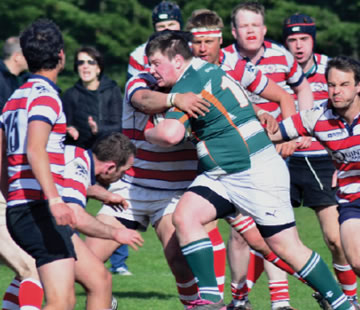 More than 80 clubs are affiliated to Middlesex Rugby. Between them they run 708 teams and counting. That's more than 17,000 people playing rugby in the county – most of them at grassroots level.
We are committed to sustaining and developing community rugby in all its forms and across all sections of the game to provide more opportunities for more people to become involved in the game, more often and more locally – whether as a player, coach, referee or volunteer.
In addition to awarding grants and bursaries, we run leadership academies, coach and referee development programmes, and we help clubs to recognise and reward their hard-working volunteers, without whom they simply wouldn't survive.
Middlesex Rugby runs a group system to provide a link between club and county. Regional group meetings provide a forum for clubs to get together to exchange ideas and experiences.
Middlesex Competitions


Middlesex Rugby runs a number of adult league, merit table and cup competitions, providing a competitive structure for all teams at every level of the game.
The Middlesex Cup, Bowl and Vase knockout competitions cater for teams playing at Level 5 right through to the Herts & Middlesex leagues whilst the Middlesex Merit Table offers more social league and cup format rugby for everyone from non-league 1st XVs to 4ths, 5ths and Extra Bs.
Women's teams compete for the Griffin Cup, students have their own U20s and U23s tournament, whilst the North West Floodlit Cup maintains the tradition of a regional competition within the North West Group area.
Middlesex schools play in a knock-out competition throughout the Autumn term, culminating in a finals day at Allianz Park, whilst at the other end of the age spectrum, a thriving veterans' league is played under lights on Friday evenings.
Mini & Youth Rugby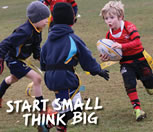 Middlesex Rugby runs a series of minis festivals throughout the season and, in conjunction with Saracens and Hertfordshire, a junior league programme which encompasses all age groups from U18 to U15, whilst the U14s and U13s play friendly fixtures. The emphasis is placed firmly on fun to keep more young people enjoying the game and playing into their adult years.
Middlesex 7s Festival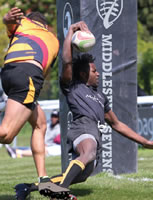 The Middlesex 7s Festival is Middlesex Rugby's biggest event – the legendary end of season sevens festival which offers competitive seven-a-side rugby for men's, women's and student teams of all abilities and pays prize money to all the winners. It is the only county-run sevens tournament for bona-fide club teams, and attracts more than 60 teams, playing in 11 competitions on 7 pitches.
Behind the Scenes
Middlesex Rugby is busy off the field too. We have a 12 strong disciplinary panel who sit weekly to pass judgement on transgressions at Level 5 and below. Our safeguarding officer ensures that children are protected and clubs are adhering to child safety guidelines. We authorise overseas tours, run a fixture exchange, publish regular best practice guides, support clubs in their efforts to recruit new players, coaches, referees and volunteers, and run leadership academies to help future club leaders reach their potential.
Fortunately, we are supported by the professional staff of the RFU's local delivery team, with three rugby development officers, six community rugby coaches, dedicated women's and students development officers, and a funding and facilities manager.
All of whom help us promote the core values of rugby union throughout the county.
County Officers
Rugby administration is an important part of developing the game at grassroots level and ensuring an abundance of opportunities for people to play the game. Whether you are looking for advice on planning and overseas tours, safeguarding children, funding streams to improve your club facilities, or strategic club development, Middlesex Rugby is the county union for Middlesex and is here to help.
The role of Middlesex Rugby:
Middlesex Rugby is one of 35 Constituent Bodies (CBs) of the Rugby Football Union, with two representatives elected to the RFU Council. Middlesex fulfils a number of vital roles to manage the representative game within the County and develop rugby within the community. The remit of Middlesex Rugby is to:
Work closely with RFU Rugby Development Officers (RDOs) and local and regional organisations to help promote and develop the game of rugby union within its member clubs
Provide the RFU with local knowledge of clubs, and act as a communication link between the clubs and the RFU. Annually monitor club accounts and promote the use of the Game Management System (GMS)
Plan, agree and implement a strategy for rugby development of all players within the CB and coordinate an annual player development programme
Provide opportunities to play representative rugby through teams who compete in the County Championship, from which the England Counties representative team is selected, the National Under 20 Championship, and at Under 18 level and below
Organise county leagues, manage county cup competitions and merit tables for club teams and manage leagues, merit tables or festivals for young players at Under 18 and below
Establish coach development programmes and maintain close links with Referee Societies who train and develop referees. Work with the RFU to increase the number of volunteers with skills and commitment to administer the game at club level
Use delegated disciplinary powers to act in relation to infringement of any law of the game by players below National League level or for any conduct prejudicial to the game or for infringement of most RFU or IRB regulations