Coaching
Middlesex Coaching Association
The Middlesex Coaching Association, run in partnership with London Irish Coaching Academy, is committed to developing all coaches within Middlesex by providing a quality coach development programme.
The Association runs eight themed coaching sessions between October and July at locations throughout Middlesex. The sessions are lead by professional Level 3 players, guest coaches and coaches working with academies or elite players. Previous coaches have included Dai Young, Tom Palmer, Richard Thorpe, Rory Teague, Richard Wigglesworth, Ian Vass, Neil Hatley and Simon Cheetham.
Join Now  or visit the coaching website here.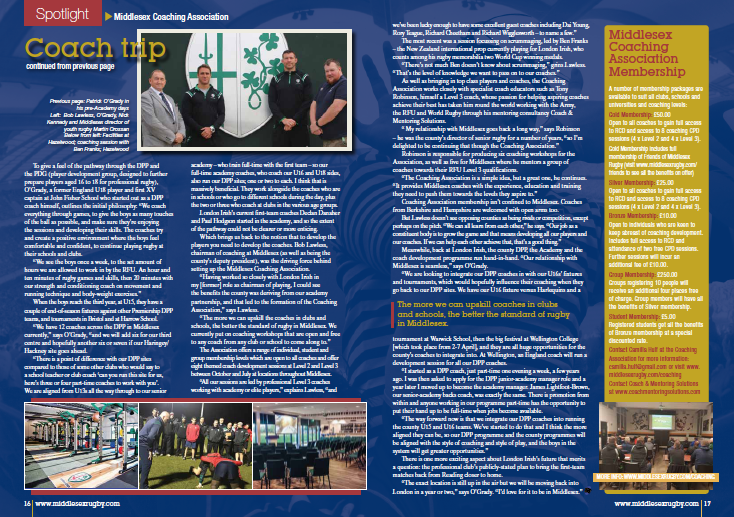 Premiership Standard Coach Development
Rugby Coaching Drills (RCD) is an online resource for all aspiring coaches and players who wish to expand their knowledge and practical coaching skills. Membership of the Middlesex Coaching Association offers free unique access to RCD Premiership standard coach development and video content including: 3500+ games, drills, session planning, age grade schemes of work and coaching from RFU trainers.
Levels of Membership
There are various levels of membership available to suit all requirements
Gold Membership
£50.00
Open to all coaches to gain full access to RCD and access to 8 coaching CPD sessions (4 x Level 2 and 4 x Level 3).
Gold Membership includes full membership of Friends of Middlesex Rugby which offers a number of benefits and privileges including access to international tickets, discount on merchandise and invitations to a number of county events during the season.
Silver Membership
£25.00
Open to all coaches to gain full access to RCD and access to 8 coaching CPD sessions (4 x Level 2 and 4 x Level 3)
Bronze Membership
£10.00
Open to individuals who are keen to keep abreast of coaching development. Includes full access to RCD and attendance of two free CPD sessions. Further sessions will incur an additional fee of £10.00.
Group Membership
£250.00
Groups registering 10 people will receive an additional four places free of charge. Group members will have all the benefits of Silver membership.
Student Membership
£5.00
Registered students get all the benefits of Silver membership at a special discounted rate.