End of Season Report
For the season ending May 2020
Dr Tim Miller – Honorary Secretary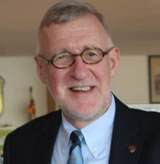 As most of you know, this is my fourth year as Secretary and, as in the past, I would like to acknowledge and thank my fellow County Officers, all members of the Management Board and its committee chairs as well as Rachel Barry and Nicky Fielder in the County Office. Their work, much of it unseen, is invaluable to the County. The County also relies on an army of excellent volunteers both within the County and at our member clubs, without whom we quite simply would not have a game. Finally, on behalf of the County, I would also like to thank Chris Cuthbertson and Rob Udwin for their tireless work on behalf of the County and the Game in general. We are fortunate to have two highly experienced Council members; the former now RFU Board Member and Chair of Governance and the latter, on the Board of Rugby Europe and as a Vice President. Thank you for your support.
Given these extraordinary and challenging times, the Management Board has focused its efforts on supporting our clubs by providing financial assistance as well as non-financial guidance and advice. Our clubs lie at the heart of everything we do in the County and their well-being is our only priority as we negotiate our way through COV19 and, in due course, a return to rugby. I therefore begin the review by looking at the progress of our member clubs in this heavily curtailed season.
Competitions Report – Andy Smart
Along with the rest of the game, our competitions were severely impacted by the COV19 lockdown and, in particular, our own eight cup competitions, the merit table playoffs and finals day which could not be completed. Nevertheless, despite this, once again a number of the County's clubs have much to celebrate across both the men's and women's game.
As you know, in the leagues the last four matches of the season could not be played. Despite this, the RFU were able to produce final league positions as determined by the formula devised by a Task Group that included Paul Astbury and therefore, we are able to acknowledge our four Champion Clubs. In L2NW, London Welsh on an outstanding run are celebrating their third title in three seasons with Hammersmith and Fulham runners up and promoted, having been awarded the level 7 playoff place. In L3NW, Old Streetonians, undefeated, were the champions with Enfield Ignatians, also promoted and returning to L2NW after only one season. In H/M1 Hendon were probably the County's form club. Undefeated in the league, they were also the London Divisional Junior Vase Champions, cruelly denied their day at Twickenham should they have successful negotiated their national semi-final at home on Easter Saturday. In H/M2 Ealing Rugby 1871 in their first season of league rugby were worthy champions, with Actonians, promoted and returning to level 9 after only one season at 10.
Across the Middlesex Merit Tables, we lost the last two rounds of matches. Whilst we were still able to determine and promote the champions, the loss of the end of season playoffs, meant only one team going up at each level. In the Premier MT, our champions for the second year in succession and unbeaten across the season, were Belsize Park 2nds.Our other champions were as follows: MMT1 – London Welsh Druids. MMT2 – Old Streetonians 2nds. MMT3 – H&F 4ths. MMT4 – Old Isleworthians. MMT5 – Old Millhillians 2nds. Vets MT1 – Chiswick Silverbacks. Vets MT2 – Millfield OBs Legends. I should add that I am delighted with how the new MMT5 format worked. Many thanks to all the clubs who worked so hard to make it a success. In the HMMTs, well done also to Finchley 2nds who finished top of division 3.
As to our women's teams, unfortunately both the Tyrells Premier 15s League and the Tyrells Premier 15s Development League were written off for the season, with Middlesex sides performing very strongly at the top of both tables. Meanwhile, where ladies' competitions reached conclusions, we are able to acknowledge the success of Hammersmith and Fulham Ladies who finished top of Championship 2 South East, Haringey Ladies who won National Challenge 2 South East (West) and are promoted and Hackney Ladies who won National Challenge 1 East and are also promoted. Congratulations again to all our Champions. Despite a season cut short, there is no doubt that they are most worthy and deserved winners. I would like to make a special mention of London Welsh and Old Streetonians, who's top two sides as you can see, won league and MT titles respectively. Outstanding seasons for both clubs.
We are still hoping that where cups have reached finals that we will be able to play these matches at the beginning of the new season whenever that might be. Finally, I must thank my committee for all their hard work and support across a difficult year. It has not been easy, but I am delighted that all remain in place to continue for next season.
Group Officers Report – Andy Smart
An interesting year for the groups which turned out as busy if not busier in lockdown than perhaps we were in season. In many ways, it appeared to be little different to previous years. Up to lockdown we had completed twelve meetings hosted by twelve of our clubs. The remaining four meetings, including the AGMs had to be cancelled. Instead, the clubs of each Group were asked to elect their Officers for the new season by email, which to be fair whilst not wholly satisfactory, worked well. However, to ensure the integrity of the elections, the results will be ratified by each Group at their first meetings of the new season. Once again, I would like to take this opportunity to thank our President for making the effort to support each of those meetings and also to the members of the Management Board who continued to honour their commitment as part of the Constitutional Review to ensure that they were represented at all of the meeting as well. I believe that this visibility by the Management Board in engaging with the groups and their clubs has paid dividends as this crisis has engulfed us all. This virus has tested us all, but it has also shown how the Groups and the County can work successfully together for the benefit not only of individual clubs, but us all. That doesn't mean to say that we will not continue to challenge and question those we have elected to management roles but this crisis has shown that the relationship between the clubs, their Groups and the County can work and that it is in all our interests to make sure that it continues to do so.
I am delighted that seven of the Group Officers have been re-elected for next season and I am very pleased to welcome Jon Boyle, the President of Hampstead to the Committee, as the new chairman of the North Group taking over from Brian East who is finally stepping down after many years of outstanding service both to his Group and to the County. I am sure that I speak for all us when I thank him for all his efforts. His common sense, humour and sense of calm will be sorely missed not only by his Group, this Committee and across the County too.
I can confirm that we intend to trial the use of Zoom at some of our meetings next season as we continue to consider all options to better engage with our clubs and their representatives. Whether this is as an addition to live meetings to enable those, who can't get there, to still be a part of what is going on or on occasion instead of a live meeting. Zoom is not there and will never be there to replace what we have. It is a tool and we need to make it work for us where it is suitable. I must thank all my committee, including Simon Hardcastle the Group Secretary for all their hard work and support across a difficult and challenging year. Their experience and commitment will be much needed as we look ahead at what is going to be a much-changed rugby landscape.
Rugby Development Report – Lou Latter
Rugby Development has visited several clubs throughout the County this season to hear how they are getting on throughout the season. Unfortunately, with COV 19 suspending all rugby activity, we have reverted to bi-monthly meetings via Zoom. If you would like a virtual meeting, or for the Committee to visit you during the 2020/2021, season please do let me know.
Throughout lockdown, we have been communicating with clubs around any updates from the RFU and the County. We've also been discussing the issues and concerns Clubs have in relation to finances, recruitment and retention and facilities. We continue to look for new volunteers and fresh thinking to join the Committee to be able to deliver on our annual objectives. Can I thank each of our existing Committee volunteers for the hard work they have put in to representing and developing the Rugby Development Committee.
Age Grade Rugby
Middlesex Rugby currently has approximately 27 clubs offering age grade rugby, both minis and junior boys and junior girls rugby. The U12s quadrangulars managed to complete their fixtures but unfortunately, the Middlesex Mini's festivals were impacted by the COV 19 situation. Age Grade Rugby will see some impact when we return to play so please ensure you keep up-to-date with any changes to guidance for our young players.
Women and Girls
The St George's Day was another casualty of the COV 19 situation, but the festival will be back in 2020/2021 and will welcome girls from U11, U13, U15 and U18 age groups. We managed to get 2 Pitch Up and Plays sessions completed and I thank London Scottish and Chiswick/Ruislip for their hosting and organisation. A more comprehensive girls programme will be introduced in 2020/2021 in line with the Age Grade Rugby Playing Calendar.
We have also been holding regular forums throughout the season. 15 clubs were represented at the Stoop in December and we have recently completed a senior women's club forum and a Girl's club forum via Zoom.
Leadership Academy Mentor Programme
The 2019/2020 Leadership Academy welcomed 14 candidates and 6 mentors to sessions run throughout the season. Whilst we still have one all day module to complete, we have held regular check ins with the academy group during lockdown. We have also agreed to extend the mentoring for the candidates through the 2020/2021 season, as well as running a Developing People Course to support our mentors in their development.
Facilities
Middlesex continued to support the NatWest RugbyForce weekend. While the June weekend has been postponed, the weekend will be used to restarting rugby. 21 clubs submitted applications, of which 15 will receive RFU funding and 6 will receive Middlesex funding. We are yet to communicate with the clubs but will do so as soon as the RFU have confirmed the plans for the forthcoming season.
Volunteers
One of the biggest impacts for Rugby Development was having to make the decision to postpone our annual RFU Mitsubishi and Middlesex Rugby Volunteer Awards. Nominations increased again this season with 160 individual nominees from 38 clubs. For the first time, we created a video to recognise all the volunteers that had been nominated and put this out over our social media channels. We will announce the winners at our awards event later in the year when we have clearance from the Spirit of Rugby that we can have 300 people in the same room together. Although the season was cut short, please do remember to say 'thank you' to your volunteers and recognise their achievements for the past season. It will also be essential that you discuss any fears or concerns they have in returning to the club once lockdown eases and we start to move through return to rugby phases.
The Middlesex 7s Festival – David Gershlick
The 21st Middlesex 7s Festival was scheduled to take place at the Richmond Athletic Ground on Sunday 3rd May to conclude another year of Rugby in the County. The May event would have included, as usual, all levels of Men and Women's Rugby 7s, Touch Rugby with the added introduction this year of a new initiative from the RFU of Rugby X with Middlesex introducing it as a Vets competition. The Middlesex 7s had been appointed a "Boosted LQ" (Local Qualifier) by the RFU under their new 7s title of " England Rugby Seven Series" as Middlesex was rated as one of the top 7s events in England allowing additional prize money to be distributed at the Festival. On the cessation of all Sports, the Festival was rescheduled to Sunday August 30th again over the Bank Holiday weekend. Sadly, a further decision was made to schedule the next Festival to Sunday 2nd May 2021. To all Teams, the Middlesex 7s Festival Committee looks forward to finally welcoming you to our 21st Celebration 7s at Richmond in May 2021.
President's Report – Bob Lawless
As my 2 year Presidency comes to a close, I bow out with a summary of my Presidency. In July 2018, the following goals were set: to visit all our member clubs, attend all the Group meetings, support the school's competitions, mini & youth festivals and attend and support our Team Middlesex Representative sides. In addition I committed to mentor candidates in the Middlesex Leadership Academy and finally to attend all functions and represent Middlesex with pride.
To all intents and purpose most of the objectives were completed with the exception of a small number of clubs where visits were cancelled due to the current pandemic. A number of other functions of which I was so much looking forward to attending included our 140th Anniversary dinner, but unfortunately this dinner was cancelled along with 14 representative games and many coaching events.
All has not been lost as during the lockdown. The Management Board has met regularly to ensure that our member clubs could be supported as best we can. Much time was spent on planning for next season, setting budgets, drafting policy documents and keeping members informed with regular newsletters.
As I finish my term of office, it gives me great pleasure to see we have in place a robust competition and representative programme which allows for much participation of players at all levels of the game including the 35 clubs playing M/Y rugby and growth of the female game. And with Middlesex all set to complete more games than last season, sadly disrupted by COV 19, I am very pleased with the direction of travel.
I have many people to thank for allowing my term of office as President to be such an enjoyable experience, which includes working with a voluntary management team who serve the County with passion and pride. To our Group members who are the conduit in providing the information to our club members, and to all our member clubs officials who have made me feel very welcome on my visits. To our Local delivery team for the part they play in developing many areas of rugby and finally to our Past Presidents and Life Vice Presidents who have given me much advice and support, to all those volunteers involved in the various committees and sub committees, too many to name, to the Middlesex Office staff for their ongoing support on County matters and finally to Tom Brownsell my respected mentor. Congratulations to the following who have been nominated for the following awards for the sterling work they have committed to Middlesex.
Life Vice Presidents, all who have given long and distinguished service to Middlesex  – John Wilson, Tim Cunis and Clive Roberts.
Vice Presidents – who have given many years' service to Middlesex, Graeme Lee, Lonsdale Leggett Flynn, Brian O`Connor, Camilla Hulf and Indigo Churchill.
I wish my successor Peter Baveystock all the best in his Presidency. Peter has been around Middlesex for many years and has been in very prominent positions. He has great ideas and his heart is very much in supporting our member clubs and the communities around them.
Thanks for your Support in growing the game of Rugby Union in Middlesex, I have been very impressed with the level of commitment and confident that we can face the changing landscape and the uncertainty of how we live with COV 19.
Deputy President's message – Peter Baveystock
Following four years as Chair of the County, I was adamant that I wanted to be fully involved in County activities at Deputy President, ahead of my term as President. My first challenge was to organise the 140th County Dinner scheduled for 18th April which as we know was rescheduled for 25th September and now rescheduled for 30th April 2021. I would like to thank the organising Team of Mark Cole, Beena Chadha and Bob Lawless for their hard work in pulling this event together.
I believe the Deputy President's role is to support the President to ensure that the County has a presence at as many games across Middlesex and also at representative games home and away, but the shortened season put paid to that including the Women's and Men's County Championship. I also attended most of the first three Group Meetings and recall the last one which was the North-West Group at West London RFC when there was much about whether to shake hands or not and probably seems like an eternity ago now.
I always enjoyed the Rugby Festivals and attended the under 7's and Under 8's events organised by Teddington and Roslyn Park respectively at the beginning of March. My last County event of the season, playing wise was when we hosted the Hampshire Under 15's A and B Teams at Grasshoppers witnessing two excellent games of rugby and two great Middlesex performances. Since the lockdown I've supported the Management Board who have worked tirelessly to ensure that when rugby returns our Clubs are as ready as they can be to face the undoubted challenges, they will face in 2020/21.
Independent Member – Trina Jackson
Over the past 18 months I have been with Middlesex Rugby in the role of Independent Member. And during this time, I have seen a lot of very positive changes taking place. My role is not to own a portfolio but to challenge the Board on the strategic and tactical decisions and approaches adopted, to ensure that we continue moving in the right direction. I have been really impressed by the way the Board have responded openly and constructively to the challenges and questions I have presented in this role. This has allowed us to identify a number of critical areas of work for the Board to focus on, in both the short and medium term.
One of these key areas of work in the past year has been the development of our strategy. This work started after a deep reflection within the Management Board on what our overall objective is. We agreed that our objective is all about 'Bringing People Together to Enjoy the Game of Rugby', and this forms the foundation upon which our four strategic priorities are built:
Protecting and Sustaining the Men's Game
Growing the Female Game
Recruiting, Developing and Recognising our Volunteers
Communication
Another key area of focus has been on developing documented policies to support how we support the game. I am pleased to say that this work has progressed extremely well, and we now have many of our policies in place (e.g.
Terms of Reference for our committees and agreed role descriptions outlining key responsibilities). This work is continuing and will be ongoing in the pursuit of our overall objective. I would like to thank all of the Management Board for their perseverance and patience to get these policies drafted, reviewed and approved. And particularly note the outstanding contribution Charles Portsmouth has provided to this process.
The global pandemic during 2020 has driven an immediate, urgent and increased focus on how the Management Board can best support our clubs in these challenging times. And I have seen the Management Board step positively into this broader role through their consideration of what more we can do to practically support our clubs, increased communications through newsletters and social media, and support offered to help struggling clubs secure much-needed funds. The pandemic has obviously posed a great challenge to us all, but it has also shown me how well the Management Board as a group has come together to meet and work through these challenges.
I have really enjoyed the past 18 months in this role and note the significant progress that has been made during this time by the Management Board.
2020 Annual General Meeting – For the avoidance of doubt, this year's Annual General Meeting was postponed with a future date as yet unconfirmed. Instead, the County is holding a Clubs and Members virtual meeting on Monday, 20th July. Dial in details are contain in the Newsletter and in the email containing the report. I do hope you will be able you to join the meeting. A final decision on the timing of the AGM will be made in due course.
Finally, as the various reports makes clear, the County has an excellent group of dedicated and hard-working volunteers but we are always looking for more and, it goes without saying, if you are reading this and you think you might like to become a County volunteer, please do not hesitate in making contact with me (tim.miller@middlesexrugby.com) or the County Office and we will be happy to point you in the right direction.
Yours in rugby,
Dr Tim Miller
Honorary Secretary