End of Season Report
For the season ending May 2022
Dr Tim Miller – Honorary Secretary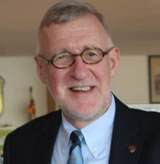 With the arrival of Summer, now is the time to reflect on the past season. As some of you know, this is my sixth year as Secretary and I am very grateful to fellow County Officers, all members of the Management Board and the numerous Sub-Committees for their unstinting efforts on behalf of the County.
Personnel changes were made during the pandemic at the County office, and naturally, we were sad to see Rachel Barry leave us, and I wanted to a take this opportunity to belatedly thank her for her contribution to the County over a number of years. We have established a sound administrative structure which has worked very well. The County Office is effectively a virtual one between Nicky Fielder, Simon Hardcastle, and me. Nicky's work, much of it unseen, is invaluable to the County and I would like to record the County's appreciation of the excellent work she does.
On behalf of the County, I would also like to thank Chris Cuthbertson and Rob Udwin for their tireless work on behalf of the County and the Game in general. We are fortunate to have had two highly experienced Council members; the former now RFU Board Member and Chair of Governance and the latter, on the Board of Rugby Europe as a Vice President. As a mark of their contribution, Chris and Rob have both been award distinguished membership of the RFU on their retirement from the RFU Council. At the recent AGM, Rob was elected as Junior Vice-President for season 2022/23. Our heartiest congratulations!! Finally, on behalf of the Management Board, can I wish Andrew Smart every success as he joins Eddie Keal as one of our two representatives on the RFU Council.
What follows are the end of season reports from members of the Management Board. Our Chairman (Eddie Keal) and Treasurer (Charles Portsmouth) will be making presentations at the AGM itself. Our clubs lie at the heart of everything we do in the Middlesex County and the Management Board and many others are focused on the support we can provide, financial and non-financial, to underpin the progress of our clubs. I therefore begin the report by looking at the progress of our member clubs.
Chair of Competitions – Andrew Smart
This has been a very difficult year and at times been a real slog for those of us who run competitions and indeed all those who are responsible for getting onto the field. Thank goodness we have reached the end of the season and some sort of break There is a lot of success for our clubs to go through but that cannot mask what a struggle it has been for the so many across both the leagues and merit tables. If the same problems continue to bedevil us next season around player availability, then a community game, already under severe strain around the edges, will be even closer to collapse.
Despite the very obvious issues facing the game as we returned from 18 months without any meaningful rugby, the RFU decided that it was sensible to push through on their plans for restructuring the leagues for next season. Unsurprisingly, it is a mess and I have absolutely no confidence that it will address many if any of the problems about player participation that it was supposed to solve. The structured season is itself a problem and will put clubs under pressure from the first weekend of September until the 11th March when if they don't decide to enter the national cups their competitive season will be all but finished. Players apparently want to play in cup competitions say the FCS. We will see. At least thanks to Chris Cuthbertson who absolutely stood on his word to allow CBs the opportunity to vote on whether to opt-out of allowing lower XVs into their leagues, we have managed to dodge that bullet for another three years, although it took many weeks before the FCS Implementation Team determined that it would inappropriate for the Hertfordshire Lower XVs to play in our combined leagues.
Congratulations to Saracens Women who are champions finishing top of the league part of the competition and then going onto win the play-off Final. Also, congratulations to Ealing Trailfinders who won the Championship for the second successive season although as we know, that wasn't sufficient for them to gain the promotion the club so desperately wants. Meanwhile, London Scottish finished their miserable season bottom with one win and a draw from their twenty fixtures.
Further down the pyramid, CS Stags 1863 despite a dreadful season which saw them record one win from 26 and finishing 35 points behind the team above them, did get to the end of the season and in so doing retained their level 5 status next season as there was no relegation at levels four to seven inclusive.
At level 6, in L1S London Welsh, perhaps the most successful Middlesex club of the season secured promotion to level 5 whilst their 2nd XV won the Premier MT and their Vets won Vets MT2.  H&F finished a very creditable fourth in their first season back at this level whilst London Cornish who struggled all season with a long injury list finished bottom albeit recording three wins. In L1N, Belsize Park finished ninth one point ahead of Old Haberdashers.
In L2NW, HAC who also enjoyed a very successful season across the club won the league by seven points whilst the 2nd XV won both the MMT Cup and Premier Knock Out Plate. Old Priorians will join them at level 6 next season whilst their 2nd XV won MMT2, their U25s picked up the NW Middx Floodlit Cup and their Vets went down by 2 points to Chiswick Vets in an excellent Vets Cup Final. Old Streetonians finished fifth, Grasshoppers sixth, Ruislip eighth, Enfield Ignatians ninth, Hampstead tenth and Hackney eleventh. 
At level 8, in L3NW Finchley were worthy champions and promoted, Hendon fifth, Harrow seventh, Finsbury Park eighth. In L3 Essex, Epping Upper Clapton finished ninth but are promoted under the new structure.
At level 9, in H/M1 London Scottish Lions, unbeaten across the season were champions, Ealing Trailfinders 1871 third, Wasps FC fourth and Saracens Amateurs fifth. All four clubs were promoted. In Surrey 1, Teddington were seventh and also promoted under the new structure
At level 10, Old Millhillians were champions with Brunel University runners up, Uxbridge fourth, Staines sixth, U.C.S seventh although they also won the Herts/Middx Plate, West London eighth, Mill Hill tenth and London French eleventh. Staines and London French have gone on permanent level transfer to Surrey for the new season whilst Mill Hill have dropped down into the merit tables. The others have all been promoted to level 9 for next season In Surrey 4 at level 12, Old Paulines were runners up, Harlequin Amateurs third and Old Hamptonians fourth. Again, all three clubs have been promoted for next season as both Herts/Middx and Surrey lose a complete league each.
In the MTs in the remaining results NZ Kiwis won MMT1, Whitton Lions MMT3, London Japanese MMT4 and Northolt MMT5. London Sussex won the MT Bowl with Harrow 2nd XV the MMT Vase. As mentioned earlier in the season, it is noticeable that four of our six MT champions are 1st XVs and next season we will have sixteen clubs with 1st XVs playing outside the league structure. It is hugely important that the MT offering works for them and indeed all our teams. Too many walkovers, too may un-played fixtures hurt all the teams not just those that are struggling to get out sides. So, plenty of success for Middlesex Clubs. In the leagues we can salute seven champions and twenty promotions. At the same time though, we have seen three Middlesex clubs withdraw from the league structure with a further two in Hertfordshire, although I am delighted to report that London Exiles do return for this coming season. We have had a whole season now to get over the impact of the pandemic. The crucial question for next season is, have we?
Group Officers Report – Andrew Smart
It many ways, and for obvious reasons, it hasn't been an easy season for the Groups for us to find our place, sandwiched between the extremely successful All-Clubs meetings and the monthly newsletter where the County has been able to get information out quickly and to as many people as are interested when necessary.  We have been looking to ensure that we continue to remain both relevant and the first port of call for our clubs if they have any issues. As a committee, we are extremely supportive of those other formats that the county has used so well across the pandemic in engaging with our clubs and we don't believe that their emergence detracted from the work and importance of the Groups. In fact, we believe that the Group format far more than any other is absolutely crucial in holding the County Management Board to account, as importantly ensuring that there was a strong and direct communication link between the clubs and their CB and as importantly that the wealth of experience knowledge throughout the groups and clubs is best captured and utilised through the Group Format. For the county so many of our leaders and committee members have first come to notice through the Groups and long must that remain
Despite the issues, there has been much good work by the groups on top of our core work organising and running the seventeen meetings, a combination of both in person or via Zoom. We also ran four Emergency First Aid in Rugby courses paid for by the County. One in each group for its own members with attendees from all sections of their clubs. North West at Harrow, South at Chiswick, West at Grasshoppers and at Old Grammarians for the North. They proved so successful that the county supported a fifth this time hosted by Wasps FC again in the NW. This produced sixty brand new, fully trained first aiders. Thanks for all five clubs for hosting the courses, to Louise who did so much to make them happen and the CB who provided the financial support. The same for the "Pick Up Whistle" courses again financially supported by the county. The London Society of Referee boundaries are slightly different to ours but the West List covers the clubs from the North West, South and West Groups whilst the North List cover the North Group Clubs. The figures for participation are extraordinary and we are looking to do the same next season with a course at a club of each group. Many thanks to Bob Lawless for his work and support with this and Bob Ockenden from the London Society who organised all the courses
Of course, we know we can do better. Participation at times at some of our meetings was down, so plenty of work for us to do but a clear appetite to improve and refresh the offering for our Clubs. Thank you to all the Officers for all their work across the season on behalf of their Groups and their Clubs and in particular to Sean Burke Secretary of the North Group who steps down to devote his time to his new family business. We welcome to Debbie Stockman-Rose from old Grammarians who becomes our first lady on the committee. A very experienced, talented and knowledgeable administrator and a most welcome addition to the committee.
Chair of Representative Playing – Jok Dunbar
Men
The Middlesex men's team finished strongly with their second fixture held at Wasps FC against Sussex on the 14th May coming away with a 35-14 win. Sadly, it was not enough to get through to the next round as Berkshire beat Sussex the following week to go through as group winners. It was a great season for the men this year with greater engagement. A special thanks to the coaching team led by Mark Jackson, Cai Griffiths, Phil Smith and Corne du Rand, our physios Kirsten and Beth and all ably managed by Stephen Harris.
Women
Cornwall made the journey to Grasshoppers and a wet Sunday for what proved a forwards game, it came down to errors in handling that gave Cornwall their points as Middlesex looked throughout to be the better side. Final score 10-5 to Cornwall, a superb game in dreadful conditions but it did feel like it could have been so much more in our favour. 
The ladies final game took place at Wootton Bassett RFC against Dorset & Wilts and the girls were fired up to prove they could get the points on the board. A cracking performance was delivered with a win assured with tenacity and grit shown throughout the game, Final score of 37-5 but sadly the points difference was not going to be enough to get through to the play offs as Cornwall won their last game against Somerset.
This was still the best performance Middlesex Women have had in more than six years and an absolute credit to Laurisa 'Gert' Robson and her team of coaches, Bryony Cleall, Helen Caux, Niall MacSweeney, Chris Mason, and all the others that could help when they could. It is a sad farewell to Gert as she moves to Canada, but she goes with our heartfelt thanks and appreciation for all that she has done for rugby in Middlesex over the last number of years. Best of luck on her new adventures!
U15 Girls
The coaches decided on a smaller development squad out of the 90 or so that came for trial this season. This proved challenging on the later fixtures as we lost a few to injury and other commitments. However, we presented ourselves well in the fixtures that took place. It is important to remember that at this age it really is their first opportunity for the girls to play at a higher level and it can be quite daunting. We ensured that all the girls received equal game time and position specific coaching whilst keeping it fun. Of the seven games the U15 girls played across three fixtures, they lost two and won five. More importantly they came together as a squad and had the experience of playing with other skilled players from other clubs in the County. They look a strong cohort and we look forward to next seasons U16's programme.
U17 Boys
The U17 boys have proved to be one of the strongest groups we've seen in recent years. Whilst the competition for positions in the squad was fierce we finished with an impressive group of approximately 30 boys. Having recruited a great depth of coaches this season, we were able to give some of the most intense and specific coaching in the sessions we had. It paid off in the results as the U17's won all three of their fixtures against Surrey, Hertfordshire and Devon. The last fixture was played in great spirits as Devon and Middlesex were missing a fixture on their calendars and agreed to fulfil the weekend as a 'friendly'. It was a great example of flowing rugby for both teams and an enjoyable experience for all, so much so, Devon have invited Middlesex down for a return fixture next season.
A big thank you to the physios and match officials this season, without you the games just wouldn't happen safely and with the right discipline. Thank you to all the players that took part and represented the senior Middlesex teams this season, it was tough coming back from the pandemic and with a great deal of games being played at club level it was a tough ask to get participants to stretch to the games in May. Lastly, thank you to all those that came to support the games, it really makes a difference to the players having a crowd behind the teams. From the scores, I managed to record for the thirty games played this season, 15 were wins, 3 were a draw and 12 were losses. Points for totaled 498 and points against were 395. We saw approximately 460 players at assessments and of those over 240 played in a Middlesex shirt this season.
It has been a satisfying and worthwhile season for Middlesex Representative rugby, it has shown how important county rugby remains as a means of identifying potential players that may slip through the net of DPP, Academy or Centre of Excellence. What the landscape looks like for senior county remains unclear but it hoped we can continue to fulfil a county programme of games at all age groups. Sadly, the U20's was a non-starter for Middlesex this season but we are looking to build the bridges between the universities and County so that this too can prove an important opportunity for talent development.
My thanks to all the coaches, team admins, physios and match officials for their ongoing support this season. To Nicky Fielder for her steady administration and friendly reminders when something is due. Thank you also to Kate Hallet and her team at Wasps FC and Matt Gilmore and his team at Grasshoppers RFC for accommodating the fixtures and being so flexible when plans changed. Last, but by no means least, thank you to the Middlesex Board for their ongoing support and guidance. 
Report on Middlesex Coach, Referee, & Mentoring Development – Bob Lawless
At the start of season 2021/22, the following strategy was put in place: – (1) to develop all coaches throughout Middlesex: (2) to develop new referees in Middlesex; and (3) provide mentoring to coaches on the coaching pathway.
Middlesex Coaching Development Programme. The Coaching Development Programme sets out to develop coaches, male and female, at all levels of the game in both our Middlesex member clubs and schools. Middlesex work in partnership with the RFU, by proactively ensuring that all RFU courses are brought to the attention of all Middlesex coaches. Middlesex also work closely with our Regional Academy partners at London Irish, with an in-house coach development programme and scouting network which allows our more ambitious coaches to coach within the Developing Player Programme. Middlesex Coaching runs a monthly Coach Education Programme which is a balance of on pitch & on-line coach education. Themes are set by experienced Academy coaches and delivered by competent experienced tutors. The following development sessions were organised with the following coaching themes for the youth / women coaches & RFU advanced coaches. The themes were, – developing a coaching philosophy, designing a coaching session, skill development, understanding back play, what is trending in the professional game and coaching the 7 a side game. A total of 192 Middlesex coaches attended these coach education sessions.
In addition, Middlesex Coaches at all levels have the option to register to receive an RCD weekly newsletter which contains a themed weekly rugby coaching topic and access into observing over 2,500 rugby skills. This circular also allows our member clubs the facility to advertise for coaches for their club, this has been very popular this past season, with a number of appointments being made. There are currently 420 Middlesex coaches registered and receiving this weekly circular.
Other Coach education that has taken place in Middlesex, are the RFU run courses on play it safe, kids first contact, kids first tag, principles of scrummaging, principles of lineout, England Rugby Coaching Award. In total 325 Middlesex Coaches attended these coaching events.
To attract senior players who are ending their playing career to take up local refereeing. Middlesex in partnership with the London Society of Referees, has run two short evening courses called "Take up The Whistle". There have been 6 of these courses run at the following Middlesex Venues. Grasshoppers x 2 Courses, Twickenham RFC, Enfield Ignatians RFC, Northolt RFC and Old Grammarians RFC.  In total, 102 former or existing players both Female and Male attended the "Take up The Whistle" courses. Some players from Middlesex also attended events in near CBs. On completion of the referee's short course, all referees are awarded a Middlesex Referees jersey.
To support the development of each of the referees who have attended the RFU young match officials award course, the "Take up The Whistle" course and the RFU England Refereeing Award, Middlesex has worked closely with Simon Hardcastle of the London Society of Referees, to run monthly, online webinars on Refereeing Development.
These online courses have covered the following topics: introduction to the new law variations; refereeing the scrummage; refereeing the lineout; refereeing the contact area; refereeing the tackle area and open play; and refereeing the – 7 aside game.  By request of the developing referees, these sessions have been run on more than one occasion to accommodate their availability. In total 329 interested referees attended these on-line webinars. The RFU England Rugby Referee Award has been run twice in Middlesex. To ensure good attendance at these venues, Middlesex promotes and advertise these courses on Social Media Platforms and via a regular monthly newsletter which is circulated to our Middlesex membership. In essence, we work very closely with the RFU Coach Developer, Grant Hathaway, to ensure that all refereeing and coaching courses and brought to the attention of our members of Middlesex clubs and schools. The total number of newly trained Middlesex referees that have been introduced to refereeing and offered ongoing support through the RFU CB Targeted Delivery Funding are – RFU England Rugby Referee Award. = 16 – RFU Young Match Official Award = 12 "Take up The Whistle" = 102 – Total new interested persons, introduced to refereeing in Middlesex = 130
Coaching Mentoring. A total of 5 individuals with coaching / managing experience showed interest and attended the RFU Mentoring Award. Out of this attendance we formed a Middlesex coach mentoring group overseen by RFU Coach Developer, Grant Hathaway. All coaches were contacted via our Member Clubs and Schools to see if they would like to become a mentee and be paired with a mentor to support them on their coaching pathway. This group has formed a community of practice and Grant Hathaway offers support on the mentoring process. A total of 5 coaching mentors are supporting 12 coaching mentees on the Middlesex Mentoring Programme. 3 of the mentees are working their way to the RFU Advanced Coaching Award.
Rugby Development – Lou Latter
The 2021/22 season has definitely been one of rebuilding following the past two seasons, but it has been great to see all our clubs back playing rugby at various levels. Whilst clubs have faced and continue to face some challenges, it has been encouraging to see all our clubs return after our enforced break. Rugby Development has worked hard this season with clubs to find solutions to the challenges they face on a more one to one basis, and we will continue this model into next season.
Age grade rugby continues to grow and 50% of our clubs host mini rugby and/or age grade boys and girls teams. Our Minis festivals were back, hosted by 5 of our clubs. It was fantastic to see our young players playing rugby with smiles on their faces in March. Following club feedback, we have completed a review of the Middlesex Mini festival entry fees so will be rolling out reduced entry fees for next season.
Our age grade girls continue to grow and we ran successful cluster teams throughout the season.
Numbers have grown and we will have a more structured competition offering. September 2022 will also see the new girls age bandings introduced, which will see more growth across our girls clubs
We ran the Rugby Leadership Network this season with 10 candidates and 3 mentors and will be developing the Rugby Landscape workshop for new club committee volunteers at the start of the new season. With new ways of working, we have been able to offer more online meetings, workshops and RFU webinars. I hope you have found these useful and please do let me know if there are topics you would like us to cover.
On Friday 27th May, we hosted RFU President Jeff Blackett and his wife Sally for the last leg of their 150th mile walk to celebrate 150 years of the RFU and raise funds for the Injured Players Foundation. The original date in November was postponed due to Jeff and Sally catching Covid but the rearranged date saw over 50 people walk the 10 miles. Thank you to Hammersmith Academy who provide the rugby activities and walked with us throughout the day, Chiswick RFC for hosting us at the start, Richmond Rugby Club for our lunch stop. We visited rugby facilities across clubs, schools, colleges and universities between Chiswick and Twickenham Stadium, before finishing the walk at the World Rugby Museum at the stadium. Over £35k has been raised so far through the President's 150th Walk.
As a County, we have been most proud of running five first aid courses across the county, which saw 60 volunteers across our clubs benefit from this funding and receive their certification in Emergency First Aid in Rugby Union.
Finally, the Middlesex Honda Volunteer of the Year Awards are back. We will be welcoming over 100 volunteers to our annual awards to celebrate their hard work and dedication to their clubs, their achievements and announcing our Honda and Middlesex Volunteer of the Year winners. I'll look forward to welcoming you if you are attending. Congratulations to all our nominees.
Director of Communications & Innovation – Waheed Aslam –
The County set out 2 years ago wanting to create better engagement between the clubs, its members and the County. This would allow us to better share relevant information across all our stakeholders and live up to our mantra of "bringing people together to enjoy rugby" The first stage of this was to improve the brand architecture and reassert our brand values. This allowed us to provide a consistency to our brand assets and make them more digital friendly. A major part of that project was also to ensure making the website fit for purpose, digital friendly and up to date (for which I would like to than Simon Hardcastle and Flo Williams of Wasps Women for their support). Stage 2 of the project was to create relevant communications channels which would allow a 2-way dialogue.  This has 4 major components (the first 2 are broad reach, the second 2 more targeted).
The website – used very much as an information only site, content will not change too much on the site but we will update with new information and relevant articles
The newsletter – the monthly newsletter has been a great success allowing County executives to communicate relevant news and updates to the wider audience
Social media – developing our Facebook, Twitter and Instagram channels has allowed us to more regularly communicate to audiences who otherwise the County may not get a chance to speak to (dare I say a younger and more diverse demographic!). Whilst we have always had a core following on Facebook and Twitter engagement in each of these channels has increased with more likes, comments and shares. Instagram has been our fastest growing social channel with great two-way dialogue and a 1000% engagement, with many people now tagging the County which ensures greater reach for their own posts
 WhatsApp groups – We now have 17 groups set up including various age grade, women's & girls, safeguarding, referees as well as executive groups including RFU comms. We have been able to share information and create more of a response via this channel than any of the others. Information around training, meetings, recognition & awards etc. Other counties and the RFU are now tapping into this resource to get their messages across.
The Communication & Branding policy ensures that we have a framework to work to and a level of governance on how we manage all of the above which was developed in line with all other Middlesex Rugby policies.
What Next? – as the world and our stakeholders become more mobile (at least through technology if not physically!), we will be looking to build on what we have created over the last 2 years to develop more digital friendly content
Safeguarding and Disciplinary Committee – Tim Miller
It would be remiss of me, as Secretary, not to mention two other very important functions namely safeguarding and discipline.
Neil Horchover, County Safeguarding Manager, continues to do an outstanding job in developing policies and guidance in this complex arena despite enduring recent personal tragedy.  Safeguarding is such a critical part of the role played by the County and his leadership has ensured that all safeguarding matters have been dealt with sensitively and calmly.
The Disciplinary Committee continues to ensure that a proportionate and appropriate approach is taken to all cases which it is required to deal with. Mick Collins (Chairman) and John Orr (Secretary), together with other colleagues, continue to discharge this important responsibility, despite the challenges of finding suitable venues in which to conduct its business. Thank you.
Finally, my personal thanks go to the army of dedicated volunteers both within the County and at our member clubs, without whom we quite simply would not have a game.
It goes without saying we are always looking for more volunteers, if you are reading this and you think you might like to become a County volunteer, please do not hesitate in making contact with me (tim.miller@middlesexrugby.com) or the County Office and we will be happy to point you in the right direction.
Yours in rugby,
Dr Tim Miller
Honorary Secretary