President's Corner
Read the latest from President of Middlesex Rugby, Peter Baveystock.
---
Peter & Jok presenting playing medals at the Girls U18 tournament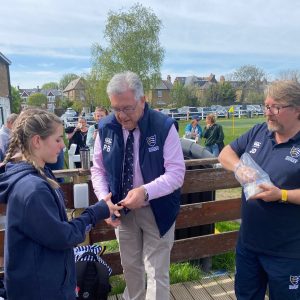 On Sunday 17th April 2022 Middlesex Under 18 Girls played a tournament against Kent, Berkshire, and Bucks at WASPS.  The president presented playing medals to the Middlesex team at the end of the tournament.  Great sunny day had by all.
20 March 2022
Kilburn Cosmos Women's coaches receiving the Beyond Rugby President Award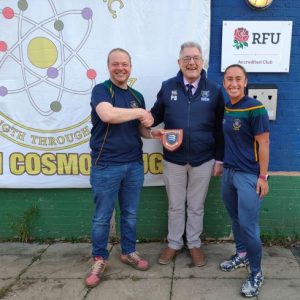 The coaches of the Kilburn Cosmos ladies team, Rob and Angelina receive their Beyond Rugby Presidents Award.  The President enjoyed the club's hospitality on  most enjoyable day at Gladstone park. 
16 September 2021
Louise Latter receives her well deserved President Medal for 2021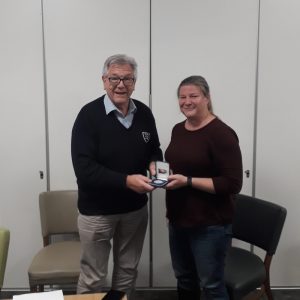 President, Peter Baveystock uses the first opportunity to present Chair of Rugby Development, Louise Latter with her 2021 President's Medal whilst at the West Group meeting at Grasshoppers. The award was in recognition of her outstanding work on helping Clubs throughout the pandemic.
22 July 2021
President present NW3 Trophy to Old Streetonians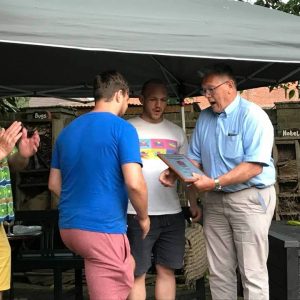 The President and his wife Sandra, were please to be able to visit Old Streetonians on Thursday 22nd July at their pub, Howl At The Moon.  Peter presented their 2019/20 London Northwest 3 championship trophy, along with the Middlesex Merit Table winners trophy to the 2nd XV, each team achieving over 100 points in both competitions.
The awards were made in a community garden adjacent to the pub for what was a celebration ahead of the hard work they're expecting in London Northwest 2.
Pete and Sandra were welcomed by Club President, Dick Stringer and Old Street's stalwarts, Lynn and Richard Hay.
Peter said that he was looking forward to returning to see them play during their 30th Season.
Recognising our volunteers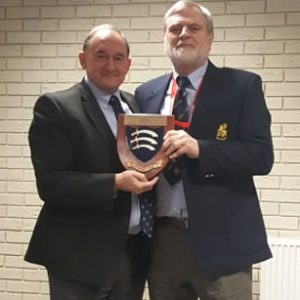 Middlesex respecting our volunteers. At the West group meeting, it gave me great pleasure to award Nigel Smith from Quintin RFC the Middlesex 30 year award for outstanding service to Rugby.
A great man from a great Middlesex club. On behalf of Middlesex Management board & members, Thank You Sir.
The President at the West Group Meeting
Middlesex West group meeting. Middlesex is divided into 4 group areas, W, S, N & NW. Each group meets 4 times each season. Management leads on policy & strategy, which has to be passed by members at our groups. Democracy & Leadership at its best.
The President visits Ickenham Saints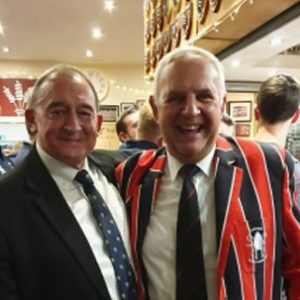 Great day hosted by Dick Pooley at Ickenham RFC. On the pitch the players looked to be enjoy themselves and put in a great second half performance. The shared use of facilities at Ruislip RFC looks a neat fit, while the environment and atmosphere was spot on. Well done to all.
Twickenham win the Chris Mapletoft Memorial Cup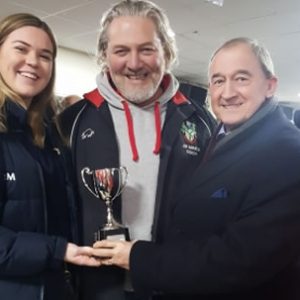 Excellent game of rugby with 2 of Middlesex great clubs, Twickenham RFC v Teddington RFC, competing for the Chris Mapletoft Memorial Cup. With 50 returning students & club players involved and over 300 in attendance. Well hosted by Twickenham RFC. Top work by all who supported this event. Well organised evening by Twickenham RFC, DOR Joe Samuels
President at the Middlesex Schools Finals
Amazing Middlesex Schools Festival put on by Middlesex Past President Tom Brownsell and Middlesex Schools Rugby Representative David Jones.
A week of Rugby with over 40 schools and over a 1,200 players both Male & Female.
President's visit to Vet Rugby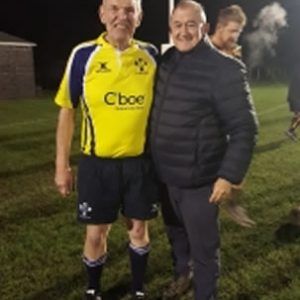 Excellent Friday night of Vets Rugby, this is a great initiative, allowing for competitive games played in the right spirit, made possible by the refs who travel county wide and cross borders allowing this to happen.
Thanks to match official Clive Roberts for making this possible. Clive was awarded a Middlesex long service referee award for 40 years service.
President's visit to Hendon

What a great season, Hendon have had. Head coach Phil Smith has made a great impact in his first season. His leadership certainly has the players buying in to a very quick style of play.
Henson finished 3rd in Middx and Herts 2 and there is a buzz in the club house. This was a great coaching appointment as Phil, who is a level 3 coach, has coached at the top level.
Well done Hendon, great teamwork.
Pictured – Phil, with Past Middlesex President Tom Brownsell and Hendon Club President, David Gershlick.
President's Visit to Belsize Park
Well done, to Belsize Park in obtaining their club accreditation.
In a recent visit I was very impressed with the turnout of minis and youth players, both boys and girls.
The standard of coaching and the coach to player ratio was a credit to Middlesex.
Pictured – Director of Rugby Greg Forster with ex Saracens Legend Hugh Vyvyan, who assist with the youth coaching.
13 April 2019
Middlesex Bowl final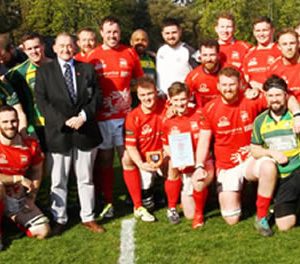 Well done to both London Welsh and Finsbury Park in what was an excellent Middlesex Bowl final.
Although the final result was 34 -12, to London Welsh, Finsbury Park gave them a good challenge especially in the first quarter.
Both team have had a fantastic season and have both gained promotion.
Good luck to both teams next season.
Well done to London Welsh in hosting an incredible day, the pre lunch, choir singing and vocal spectators in very large numbers was a credit to this Middlesex competition final.
13 April 2019
Middlesex Bowl Final
Well done to area referee organiser Rob Park for being part of a team of 3 for the Middlesex Bowl Final, between London Welsh and Finsbury Park.
Rob, thanks for all the work from your match officials and yourself throughout the season.
7 April 2019
President's visit to Hove RFC

Richard and Geraldine, thanks for the great hosting of your pre match lunch and what was an interesting game of rugby which ended in a 32 – 32 draw.
The Hove support despite having a difficult season inspired the Hove players to put in their best performance of the season.
London Cornish have had a very good season following promotion last season.
Well done and good luck to both clubs.
Jerry, thanks for the invite and looking after me on the day.
Pictured – Jerry Rogers – London Cornish, Hove President Richard Hopkins and Hove Chair Geraldine Brown.
30 March 2019
Presidents Message and end of season report 2018-19
This report is a reflection on my first year as President of Middlesex.
I have been involved with Middlesex since 1990, I have held various roles in coaching and managing positions with the youth and Senior sides and for 8 years was on the Rugby Development Partnership, which was a link between our clubs and schools. I have also been involved in coaching development which now includes referee development.
I am currently Chair of the London Irish Regional Playing Pathway Group, which overlooks the playing pathway of the Developing Player Programme for Middlesex and our DPP Partners Hampshire & Berkshire. I have been invited by the RFU to sit on a task group which is looking into the pathway for the U15s & U16s. I regularly visit our 3 DPP centres which is responsible for the development of Middlesex players from U13s – U16s of which we have 260 in the DPP programme.
Top of my Agenda this season was a commitment to visit as many of our member clubs throughout the County. To date I have visited over half of our member clubs, in addition I have met many of our group representatives at the various group meetings.
My first contact with Club officials was last July after my appointment at the AGM. Many will remember a communication letter which I sent out looking for support to re-enter the Senior County Championship. This was followed up by a number of visits to introduce our new senior head coach to the various clubs Coaching teams. The response of support was amazing which result in 3 good performances in our first season, we should all feel very proud of all players representing Middlesex Rugby.
Other official visits have included, the Schools Finals at Allianz Park, our mini / youth festivals run at various clubs. Attendance at representative games which have seen an increase in numbers in both the female and male participants. In addition to visiting our various member club games on a Saturday, I have attended numerous vets' games on Friday Evenings and have viewed a number of the women Tyrrell's games.
In April I visited the St Georges day girl's festival. This festival in its 10th year has grown from strength to strength, with 4 age groups of girls competing in a festival over 2 days, allowing the participation of over 400 young girls.
I have represented Middlesex in the following external events, London Society of Referees Annual Dinner, Hertfordshire Clubs Dinner, Surrey Awards evening and the London Irish Awards evening. I also attended a Church service commemorating Middlesex day on the 16th May and on all occasions wear the Middlesex tie with pride.
It gives me great pleasure to see we have in place a robust competition programme which allows for much participation of players at all levels of the game including the 35 clubs playing M/Y rugby. The end of season Bowl Final, Vets Cup Final, Middlesex Cup Final and Club Middlesex 7s were all great occasions enjoyed by all.
The excellent volunteers evening at RFU held in June is a commitment by both the RFU and Middlesex in recognition of valuing the work of the volunteers which are the heartbeat of our clubs.
I have many people to thank for allowing my first season as President to be an enjoyable experience, from working with a voluntary management team who serve the County with passion and pride. To our group members who are the conduit in providing the information to our club members, and to all our member clubs officials who have made me feel very welcome on my visits. To our Local deliver team for the part they play in developing many areas of rugby and finally to our Past Presidents and Life Vice Presidents who have given me much advice and support, to all those volunteers involved in the various committees and sub committees, too many to name and finally to the Middlesex Office staff for their ongoing support on County matters.
As the end of the season approaches and we all make plans to spend a bit more time with our friends and families, I'd like to take the opportunity to make a few observations about our rugby family in the County.
Our core values, and our commitment to them, are what set this game apart from so many other sports and activities. Teamwork, Respect, Enjoyment, Discipline and Sportsmanship must remain as fundamental to everything we do.
Middlesex is a very special place, and not because we don't exist as an administrative County any longer! We serve the most diverse, culturally mixed population in the world. We want to take a leading position on providing equal opportunities, fair treatment and respect for everyone involved in our game. We can only do that through you, our volunteers, players, officials, "blazers" and supporters. I urge you to take a little time this Summer to think about our values. If you want food for thought, there is some inspiration on the RFU website.
I have encouraged the County Management to read and contemplate what the statement means to them, and I ask you to do the same, no matter what role you play in your club or team. It's vital to our continued success that we all aim for the same very high standards.
Next Season we celebrate the 140th anniversary of Middlesex County and we are in very different times with an ever-changing Rugby Landscape. We have in place a Middlesex Local Delivery Plan, put together by various stakeholders which does reflect the changing times and is our guide to strengthen our member clubs and the communities around them.
Thanks for Your Support in growing the game of Rugby Union in Middlesex.
Bob Lawless
President, Middlesex Rugby
30 March 2019
President's Visit to Enfield Ignatians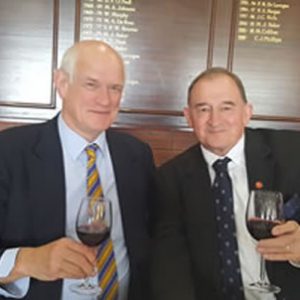 Enfield Ignatians v Belsize Park.
This was always going to be a difficult game with Belsize having an amazing season and the win today secured promotion.
Enfield Ignatians didn't get off to the best of starts but deserved a little more out of the first half which would have secured them a much needed bonus point.
Today's visit was a celebration of 20 years of Youth Rugby at Enfield Ignatians. A youth notice board and a youth players role of honour was unveiled.
Enfield are prospering with their youth development programme with 12 past youth players in the first XV squad.
A pre-match game with Enfield Ignatians U10s and Saracens U10s set off a great celebration day, well done to Martin Baker and team for organising the event.
Back in the clubhouse, President Chris Phillips hosted a great President's lunch while looking after the club sponsors and the awarding of bouquets to the catering staff in this last home game of their 70th Season.
Pictured Chris Phillips, President of Enfield Ignatians and myself.