Berkshire v Middlesex Men
Posted on 13 May 2019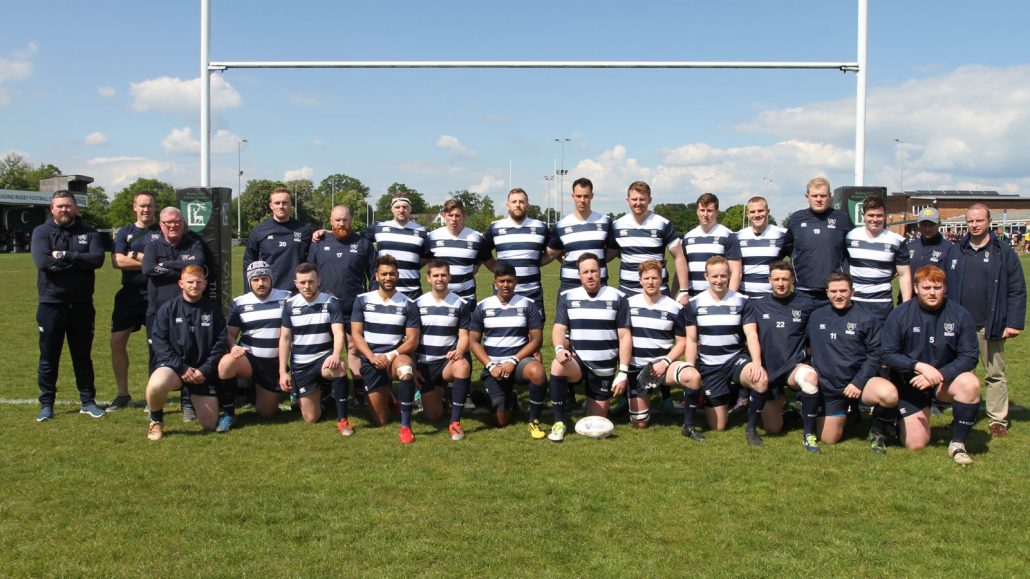 Berkshire 28 Middlesex 12
On Saturday 11th May a short trip up the road saw Middlesex take on Berkshire in the second round of the Bill Beaumont Cup.  Reinforcements were drafted in as casualties and availability issues mounted up , but in a positive spirit the squad arrived at Reading RFC confident in what they could produce.
In front of a decent crowd and under a lot of sun the initial 15 minutes saw the two sides evenly matched. Berkshire using their experience took first blood with a well taken penalty and led 3-0.  Middlesex again under the Captaincy of Cai Griffiths rallied and the ball passing through the exceptional hands of Ryan Martin and Oliver Snook allowed Matt Pollen to speed over the line, the kick from Snook rang true and Middlesex led for the first time. Conan Osborne outpacing the defence on several occasions took Middlesex deep into the opposition half and his club teammate Oliver Fulljames added to the yardage with some thundering runs.  Cale Holmes following on from his excellent debut last week threw himself into every breakdown. Arvin Pooloogadoo defended his wing tightly despite the onslaught and helped Marshall the backline.  Injuries began to mount due to the rock-hard ground and Berkshire dominated late into the first half, securing a second penalty and then a try. The half time whistle went, and Berkshire led 11-7.
With the subs bench active Middlesex threw themselves back into the mix against a well-prepared defence. Tom Foster using his quick feet to gain ground hit a solid wall of defence on more than one occasion. Berkshire using the counter attack to their advantage scored another try and penalty extending their lead. Simon March took to the field for his debut and with some darting runs made sure he created further space for his team mates. The leadership and quality of the Middlesex squad prevailed when most needed and not allowing heads to go down they fought back. Peter Bicknell running some very creative lines began to open gaps, Alessandro Leo again very physical at the breakdown alongside Tom Proctor made sure the back got the service they needed. With some great carries by Yacob Kial and Tom Baldwin the team came back to score a try with Billy Burrell bursting through the defence to touch down. Rob Gardner again proved a handful for the opposition and the introduction of Joe Healy and Jacob Lloyd added extra impetus to the forwards. Max Imfeld and Tom Gadsby playing out of position did their best to shore up the pressure but another score from Berkshire with minutes to go belied how hard Middlesex played, but it wasn't to be our day. Berkshire ran our deserved winners, 28-12 .
Thank you to Reading RFC for hosting us so well and to the match officials on the day. Good luck to Berkshire and our next fixture will be at home (Grasshoppers RFC) on May 18th Kicking off at 15:00.
1. Cai Griffiths ( London Welsh) capt.
2. Rob Gardner (Hampstead)
3. Oliver Fulljames (CS Stags 1863)
4. Yacob Kial (Grasshoppers)
5. Tom Baldwin (London Welsh)
6. Tom Proctor (CS Stags 1863)
7. Cale Holmes (Hammersmith and Fulham)
8. Alessandro Leo ( Bishop's Stortford)
9. Billy Burrell (Hendon)
10. Oliver Snook (Chiswick)
11. Arvin Pooloogadoo (HAC)
12. Matt Pollen (CS Stags 1863)
13. Ryan Martin (CS Stags 1863)
14. Peter Bicknell (Hampstead)
15. Conan Osborne (CS Stags 1863)
16. Max Imfeld (HAC)
17. Joe Healy ( Mill Hill)
18 . Jacob Lloyd (HAC)
19. Tom Gadsby (Chiswick)
20. Simon March ( Old Priorians)
21. Ultan Breton ( Hammersmith & Fulham)
21. Simon March (Old Priorians)
22. Tom Foster (Twickenham)
Head Coach: Mark Jackson
Forwards Coach: Corne du Rand
Backs Coach: Peter Halsall & Edd Conway
Physio: Steve Bosworth & Sofia Simeone
Team Manager: Alex Pereira-Inacio
More Photos here:
https://www.flickr.com/photos/middlesexrugby/albums/72157705080488152