Middlesex Coaching Association Awards 2019 Presentations
Posted on 7 May 2019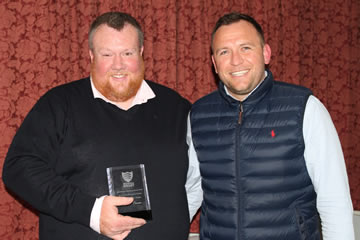 Held at London Welsh on Friday 26th April 2019.
This most entertaining and instructive evening was attended by 34 attendees made up of Coaches, Referees and Guests.
Rory Teague addressed the group in how different cultures and leadership will have a major effect on how the various nations will do in their quest for the World Cup in Japan 2019.
The session was interactive with all participants working in groups to contribute to how different people from different walks of life see the challenges, building up to the competition phase of the World Cup Pools to the final.
Rory had screen shots of the pools, and back up statistics of games over the past year. The group also viewed statistics of England's Premiership clubs and their contribution to the final England squad.
The various factors, environment, refereeing, squad preparation, captaincy, coaching and leadership were discussed which afforded a very interesting debate amongst those in attendance.
There was a break of 20 minutes during which the hosts London Welsh put on an excellent buffet and refreshments.
Following the break, there was the Middlesex Coaching Awards Ceremony. A record of 58 nominations were received and all were examined thoroughly. The final selection was agreed by the Middlesex Coaching Association committee.
There were various types of awards presented which included two awards for coaches involved in the development of Girls Rugby, two awards for coaches involved in the development of Age grade boy's rugby, two awards for coaches involved in Women's Rugby and two Awards for coaches involved in Senior Men's Rugby. There were four awards given for Referee development and an achievement award given to a player who got six caps for England U18s having come through each of the representative age grade sides.
Those who were nominated for awards and never got selected due to the standard of nominations received an RFU Volunteer certificate signed by The RFU President Mr Chris Kelly.
Rory Teague, Middlesex Incoming Chair Mr Eddie Keal and Women's and Girls Councillor Louise Latter presented the Awards and photographs were taken by the County Photographer Mr Brian O`Connor.
A final thanks must go to Lonsdale Leggett – Flynn, who organised the nominations collated all of the confirmations for catering and covered the registration on the evening.
Pictures of the evening can be seen at: https://www.flickr.com/photos/147976130@N06/albums/72157704818314232.