Middlesex Coaching Association
Posted on 4 September 2018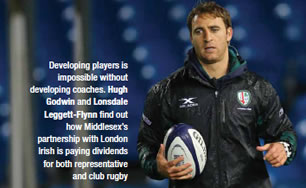 Coach Trip
Developing players is impossible without developing coaches. Hugh Godwin and Lonsdale Leggett-Flynn find out how Middlesex's partnership with London Irish is paying dividends for both representative and club rugby
When one door closes, another one swings wide open. When Middlesex's partnership with the Wasps Academy came to an end as a result of the move made by Wasps to the West Midlands, London Irish stepped up to the plate to offer a new home and new impetus for the Team Middlesex developing player programme at its Hazelwood training facility.
And because developing players is impossible without developing coaches, the county's partnership with London Irish has spawned another joint initiative – formation of the Middlesex Coaching Association.
Patrick O'Grady, the manager of the London Irish Academy, speaks with such enthusiasm about his club "inheriting" Middlesex that you feel there is much to be gained and nothing to regret from the change.
"On the academy side, it's fantastic for London Irish as Middlesex gives us another 4500 players between the ages of 11 and 18," says O'Grady. "In our DPP (developing player programme) for U13s to U15s, we have two sites for Middlesex at Hazlewood (the London Irish training complex) and Harrow School. There are 150 to 200 boys involved and that could double as we are looking to start a site in the Chiswick/Twyford Avenue area and, in two years' time, tap into the Hackney/Haringey area."
The London Irish Academy once famous for producing the likes of Jonathan Joseph and Anthony Watson has been given a reboot and this year it has supplied five players to the England U20s, two to the England U18s and three to the U17s.
Bob Lawless, O'Grady, Nick Kennedy and Middlesex director of youth rugby Martin Crossan
To give a feel of the pathway through the DPP and the PDG (player development group, designed to further prepare players aged 16 to 18 for professional rugby), O'Grady, a former England U18 player and first XV captain at John Fisher School who started out as a DPP coach himself, outlines the initial philosophy: "We coach everything through games, to give the boys as many touches of the ball as possible, and make sure they're enjoying the sessions and developing their skills. The coaches try and create a positive environment where the boys feel comfortable and confident, to continue playing rugby at their schools and clubs.
"We see the boys once a week, to the set amount of hours we are allowed to work in by the RFU. An hour and ten minutes of rugby games and skills, then 20 minutes with our strength and conditioning coach on movement and running technique and body-weight exercises."
When the boys reach the third year, at U15, they have a couple of end-of-season fixtures against other Premiership DPP teams, and tournaments in Bristol and at Harrow School.
"We have 12 coaches across the DPP in Middlesex currently," says O'Grady, "and we will add six for our third centre and hopefully another six or seven if our Haringey/Hackney site goes ahead.
The more we can upskill coaches in clubs
and schools, the better the standard of rugby
in Middlesex
"There is a point of difference with our DPP sites compared to those of some other clubs who would say to a school teacher or club coach 'can you run this site for us, here's three or four part-time coaches to work with you'. We are aligned from U13s all the way through to our senior academy – who train full-time with the first team – so our full-time academy coaches, who coach our U16 and U18 sides, also run our DPP sites; one or two to each. I think that is massively beneficial. They work alongside the coaches who are in schools or who go to different schools during the day, plus the two or three who coach at clubs in the various age groups.
London Irish's current first-team coaches Declan Danaher and Paul Hodgson started in the academy, and so the extent of the pathway could not be clearer or more enticing.
Which brings us back to the notion that to develop the players you need to develop the coaches. Bob Lawless, chairman of coaching at Middlesex (as well as being the county's deputy president), was the driving force behind setting up the Middlesex Coaching Association.
From left: Facilities at Hazelwood; coaching session with Ben Franks; Hazelwood
"Having worked so closely with London Irish in my [former] role as chairman of playing, I could see the benefits the county was deriving from our academy partnership, and that led to the formation of the Coaching Association," says Lawless.
"The more we can upskill the coaches in clubs and schools, the better the standard of rugby in Middlesex. We currently put on coaching workshops that are open and free to any coach from any club or school to come along to."
The Association offers a range of individual, student and group membership levels which are open to all coaches and offer eight themed coach development sessions at Level 2 and Level 3 between October and July at locations throughout Middlesex.
"All our sessions are led by professional Level 3 coaches working with academy or elite players," explains Lawless, "and we've been lucky enough to have some excellent guest coaches including Dai Young, Rory Teague, Richard Cheetham and Richard Wigglesworth – to name a few."
The most recent was a session focussing on scrummaging, led by Ben Franks – the New Zealand international prop currently playing for London Irish, who counts among his rugby memorabilia two World Cup winning medals.
"There's not much Ben doesn't know about scrummaging," grins Lawless. "That's the level of knowledge we want to pass on to our coaches."
As well as bringing in top class players and coaches, the Coaching Association works closely with specialist coach educators such as Tony Robinson, himself a Level 3 coach, whose passion for helping aspiring coaches achieve their best has taken him round the world working with the Army, the RFU and World Rugby through his mentoring consultancy Coach & Mentoring Solutions.
" My relationship with Middlesex goes back a long way," says Robinson – he was the county's director of senior rugby for a number of years, "so I'm delighted to be continuing that though the Coaching Association."
Robinson is responsible for producing six coaching workshops for the Association, as well as five for Middlesex where he mentors a group of coaches towards their RFU Level 3 qualifications.
"The Coaching Association is a simple idea, but a great one, he continues. "It provides Middlesex coaches with the experience, education and training they need to push them towards the levels they aspire to."
Coaching Association membership isn't confined to Middlesex. Coaches from Berkshire and Hampshire are welcomed with open arms too.
But Lawless doesn't see opposing counties as being rivals or competition, except perhaps on the pitch. "We can all learn from each other," he says. "Our job as a constituent body is to grow the game and that means developing all our players and our coaches. If we can help each other achieve that, that's a good thing."
Meanwhile, back at London Irish, the county DPP, the Academy and the coach development programme run hand-in-hand. "Our relationship with Middlesex is seamless," says O'Grady.
"We are looking to integrate our DPP coaches in with our U16s' fixtures and tournaments, which would hopefully influence their coaching when they go back to our DPP sites. We have our U16 fixture versus Harlequins and a tournament at Warwick School, then the big festival at Wellington College [which took place from 2-7 April], and they are all huge opportunities for the county's coaches to integrate into. At Wellington, an England coach will run a development session for all our DPP coaches.
"I started as a DPP coach, just part-time one evening a week, a few years ago. I was then asked to apply for the DPP junior-academy manager role and a year later I moved up to become the academy manager. James Lightfoot-Brown, our senior-academy backs coach, was exactly the same. There is promotion from within and anyone working in our programme part-time has the opportunity to put their hand up to be full-time when jobs become available.
"The way forward now is that we integrate our DPP coaches into running the county U15 and U16 teams. We've started to do that and I think the more aligned they can be, so our DPP programme and the county programmes will be aligned with the style of coaching and style of play, and the boys in the system will get greater opportunities."
There is one more exciting aspect about London Irish's future that merits a question: the professional club's publicly-stated plan to bring the first-team matches back from Reading closer to home.
"The exact location is still up in the air but we will be moving back into London in a year or two," says O'Grady. "I'd love for it to be in Middlesex."