Age and experience no barrier to Teddington's rugby playing mums
Posted on 3 February 2016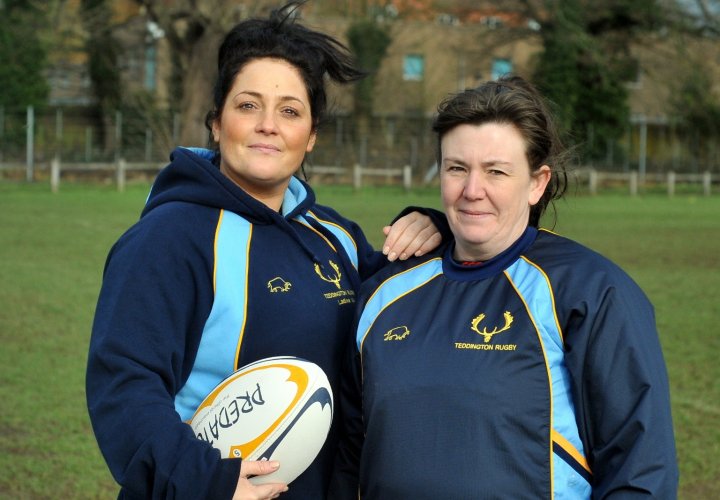 [av_layerslider id='10']
[av_textblock size=" font_color=" color="]
Middlesex News
[/av_textblock]
[av_textblock size=" font_color='custom' color='#81aedc']
Age and experience no barrier to Teddington's rugby playing mums
Post Date:   3rd February 2016
[/av_textblock]
[av_textblock size=" font_color=" color="]
Last season two Mums, Nat Haidari and Michelle Devlin turned up at a muddy training session with the Teddington Ladies.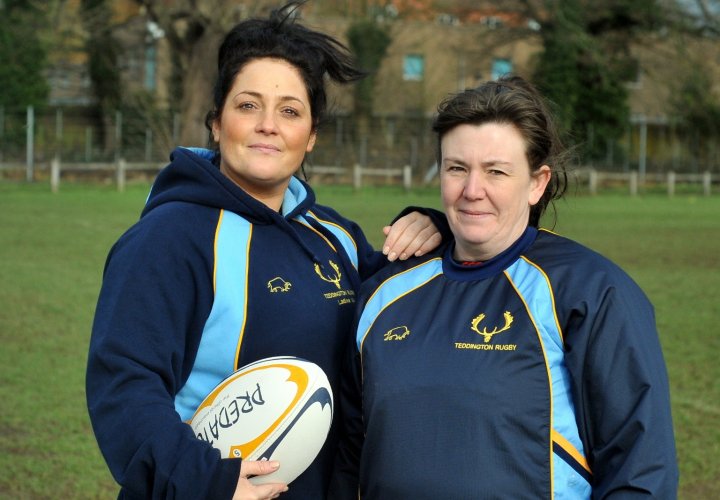 Nat, 33, and Michelle, 42, had never played rugby before but are now into their second season with the Teddington Antlers and loving it. They tell us why they have fallen in love with the sport and why it's ideal for all ages and abilities.
Nat has three young sons aged 7, 9 and 10, who came and watched her play for the first time last week, and Michelle's daughter Ellie has now also joined the Teddington Junior section and travels with her Mum to training and games.
Why did you take up rugby?
Nat: I've always enjoyed some kind of sport, from walking to Zumba, and I've even tried a little kick-boxing and boxercise, but they all became rather boring too quickly to keep me motivated or focused. I've always liked the idea of being part of a team but only ever seemed to hear about men doing it. I started looking for a women's football team to join, as to be honest rugby never entered my mind. I mentioned to my sister-in-law that I wanted to be part of a team sport and she told me Teddington had a women's rugby team. At first I laughed and thought rugby was far too aggressive for me and that I probably wouldn't be suitable as I felt I was too old. I then googled the team and found an email for Sarah Edwards who gave me a very warm and welcoming response. She invited me down to training and assured me that I wasn't too old and I was in fact younger than her!
Michelle: I took up rugby when Nat got in touch and asked me to come to training with her. I thought she was mad but I am the kind of person who will try anything once. Apparently she had asked a few people and I was the only one who would go!
Is that true Nat?
Nat: Yes! I think when you're a Mum sometimes it's easy to fall into the trap of feeling frumpy and mummsy. I had asked a few friends if anyone wanted to join me but they all responded with an "errrrrr I don't think so!" I But Michelle was up for it.
What was the first session like?
Michelle: I thoroughly enjoyed it. I had always enjoyed watching my sons playing rugby at school but at that time, I had never really heard of women's rugby. I enjoy rugby because there is a position for everyone regardless of age or ability and it is a real team game. The ladies at Teddington were so friendly and encouraging and welcoming that definitely helped to stick with it.
Nat: We were very nervous but excited and had a lovely welcome from all the ladies. They instantly made me feel part of the team which took all my anxieties away about not being suitable!! I can truly say I will never forget walking through St Mary's university and attending my first of many training sessions. I loved the energy and the confidence that these women had. Rugby is a powerful sport and every woman there was extremely passionate about it.
"I would definitely encourage other Mums to join rugby. I have seen my own fitness improve so much and it is enjoyable at the same time." Michelle Devlin
These where real women of all shapes and sizes which was comforting and nice to see. I think that night after training I realised that the only downfall was that my long red nails would have to go! A sacrifice I was happy to make as I enjoyed it so much.
What sort of barriers are there for Mums wanting to take the game up?

Nat: As a Mum everything has barriers from going for a coffee to having your hair done, but you can't let children be an excuse for not doing something you love to do! My family are very supportive and encouraging as they see how happy it makes me and how I have made some great friends and I am now part of a wonderful team.
Michelle: As a Mum the barriers are mainly the commitment, as practically it takes up three days a week – more if you're training outside that as well. For me it is a lot easier that my daughter comes along with me. I would definitely encourage other Mums to join rugby. I have seen my own fitness improve so much and it is enjoyable at the same time.
I think with team games, the social side of things is a really good help for Mums who have maybe lost track with other friends when having family commitments. When I told friends and family, they thought I was mad as I did with Natalie when she asked me. My mum said at your age!! But she knows now how much I enjoy it and they all want to see me play now!
Teddington has two senior ladies teams and caters for all abilities from newcomers to more experienced players. For more information contact: sarah.edwards@makeitclear.co.uk
[/av_textblock]
[av_textblock size=" font_color=" color="]




[/av_textblock]
[av_social_share title='Share this page' style=" buttons="]