Rita Connolly – the end of an era
Posted on 2 March 2016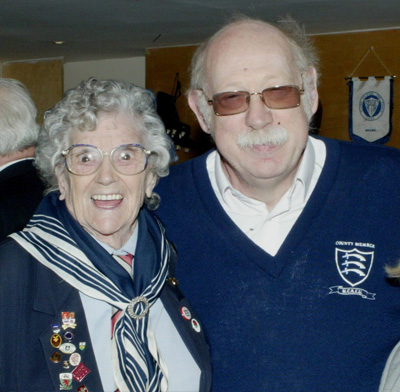 [av_layerslider id='10']
[av_textblock size=" font_color=" color="]
Middlesex News
[/av_textblock]
[av_textblock size=" font_color='custom' color='#81aedc']
The end of an era as rugby says
goodbye to Rita Connolly
Post Date:   1st March 2016

[/av_textblock]
[av_textblock size=" font_color=" color="]
Middlesex Rugby was very sad to hear the news on the morning of the England v Ireland game, that Rita Connolly has died after a short illness, marking the end of an era at Finchley RFC.
Here she is, pictured with club colleague Colin Seabrook.
At the grand age of 94, Rita was Finchley's oldest fan and staunchest supporter. She had seen many changes at Summers lane since she started going to the club in 1948 with her late husband, former president Pat Connolly, and she had many a tale to tell. Her recollections were printed in Middlesex Matters in Autumn 2013.
About  the tradition of rugby songs: "I'm sorry that there's not so much singing these days. I think the drink-driving laws are to blame. Win or lose, we all used to sing the Finchley medley after all our games."
About Finchley's regular fixture against an occasional Sunday team:  "I think they were called the Nadgers. They used to sing beautifully, but one time my children came to fetch me to tell me there was a naked man in the bar. It turned out to be their star player Oliver Reed! I had my picture taken with him.
About her surprise 75th birthday party held at the club in 1996 after their league game against Ealing: "We beat Ealing that day, and look how high they are now. I can't believe it."
Not only was Rita a great supporter of her beloved club, where club president Clive Roberts acknowledges that her death brings the end of an era. She was also a great supporter of the County, and regularly attended matches and lunches over the years.
Her funeral will be in Leeds, but there will me a memorial service in Middlesex later in the year. Rita's life was certainly one to be celebrated, and our thoughts are with her family.
[/av_textblock]
[av_textblock size=" font_color=" color="]




[/av_textblock]
[av_social_share title='Share this page' style=" buttons="]