Volunteers Awards Evening
Posted on 24 June 2019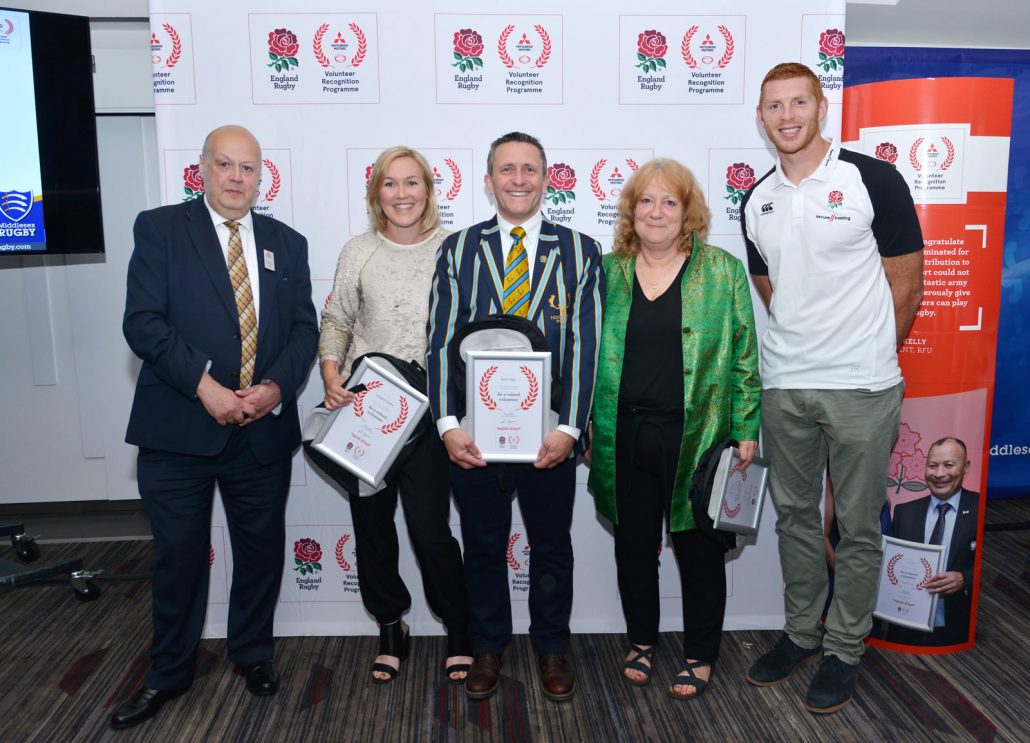 Middlesex hosted their annual club volunteer awards at the Spirit of Rugby on Friday 7th June. This is the 3rd year that Middlesex have combined the awards with Mitsubishi Motors Volunteer Recognition. Over 160 club volunteers were in attendance from 27 clubs with a record number of volunteer nominations received through the Mitsubishi Motors Volunteer recognition.
Winners were treated to a special appearance by England 7s Legend James Rodwell, who, along with Andrew Joaman of Mitsubishi, presented all individual nominees with their certificates and ruck sacks.
Two Mitsubishi Motors Volunteer Nominees were then selected to represent Middlesex at the National Awards in September. Congratulations to Rob Edison of Kilburn Cosmos RFC and Laura Curtin of Grasshoppers RFC. We wish them all the luck at the national awards, where they could win a Mitsubishi car for a year.
The Mitsubishi Motors awards were then followed by the Middlesex individual and club awards.
Long Service Awards, for 30 years plus service, were awarded to:
Terwyn Williams of London Welsh
Robin Greenwood of Pinner
Colin Seabrook of Finchley
Rob Allen of Teddington
John Crotty of Grasshoppers
The Individual Volunteer or the Year Awards went to:
Overall Individual Winner – Mike Hindley of Hammersmith and Fulham
Young Volunteer of the Year – Molly McNamara of Haringey Rhinos
North Group Individual Winner – Stephen Domoustchiev of Haringey Rhinos
North West Group Individual Winner – Karen Arnold of Ruislip Rugby Club
South Group Individual Winner – Billy Edmonds of Thamesians
West Group Individual Winner – Tim Lawn of London Scottish
The President Club Awards were awarded to:
Growing the Game – Belsize Park
Growing the Game – Old Grammarians
Growing the Game – Old Isleworthians
Community Engagement – Hampstead RFC
Special Recognition – Ian Webster of Mill Hill RFC