DIY at Old Grammarians
Posted on 25 July 2017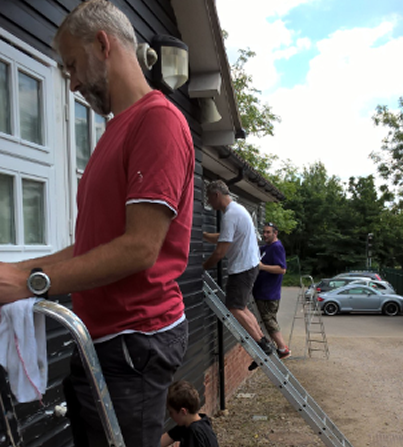 [av_layerslider id='35']
[av_textblock size=" font_color=" color="]
Middlesex News
[/av_textblock]
[av_textblock size=" font_color='custom' color='#81aedc' av-medium-font-size=" av-small-font-size=" av-mini-font-size=" admin_preview_bg="]
NatWest Rugby Force helps Old Grammarians
Post Date:   25th July 2017

[/av_textblock]
[av_textblock size=" font_color=" color=" av-medium-font-size=" av-small-font-size=" av-mini-font-size=" admin_preview_bg="]
The Old Grammarians turned out for a weekend of domestic duties and DIY funded by the NatWest RugbyForce.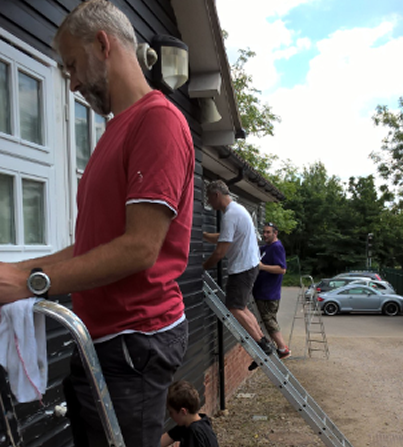 A range of tasks were planned to accommodate all abilities and skills so that everyone who turned up would be able to contribute. Junior members were dispatched around the ground to collect litter, but they soon discovered that the litter pickers provided by the club doubled up as swords or light-sabres so parents were needed to refocus them on the task from time to time.
The main priority for the adults was to paint the exterior window frames. These had become severely weathered, giving the clubhouse a rundown look, and any further deterioration was likely to result in expensive repairs. Rubbing down and making good took longer than many expected by lunch time on Saturday the paint pots remained frustratingly unopened, whilst several of the team appeared to have aged significantly under a layer of white dust and bits of masking tape.
By mid-afternoon the primer finally emerged and with the weather being kind this dried in time to apply a first coat of paint before going home. Other volunteers tackled the overgrown perimeter fence, improving the appearance of the site and freeing up parking space. Wire mesh was attached to the fence to prevent the wind and local foxes bringing litter onto the ground. The rest of the volunteers gave the clubhouse interior a much needed clean and tidy, getting rid of a year's worth of lost property and the other stuff that seems to accumulate in all sports clubs.
The focus on Sunday was on completing the window frames and another fine day enabled volunteers to work in an almost continuous loop around the building to apply two further coats of paint. Painting done, the tools were cleaned and stored away, the junk and rubbish went into the skip and they all settled down for a well-deserved pint.
On the Monday, First Grounds Maintenance arrived to top-dress the lower pitch and verti-drain both pitches. Over the weekend there had been considerable enthusiasm for helping with this until the boys realised they would not be allowed to play with the big toys, so we reluctantly left it to the professionals.
After several hours of tractor movements across the ground tonnes of sand had been spread and the pitches had been spiked. Since then we have had several wet days which has helped wash the sand into the drain holes and with the generally warm weather the pitches have already regained a decent turf.
[/av_textblock]
[av_textblock size=" font_color=" color="]




[/av_textblock]
[av_social_share title='Share this page' style=" buttons="]