RFU announces Community Rugby remains at Stage D2
Posted on 20 May 2021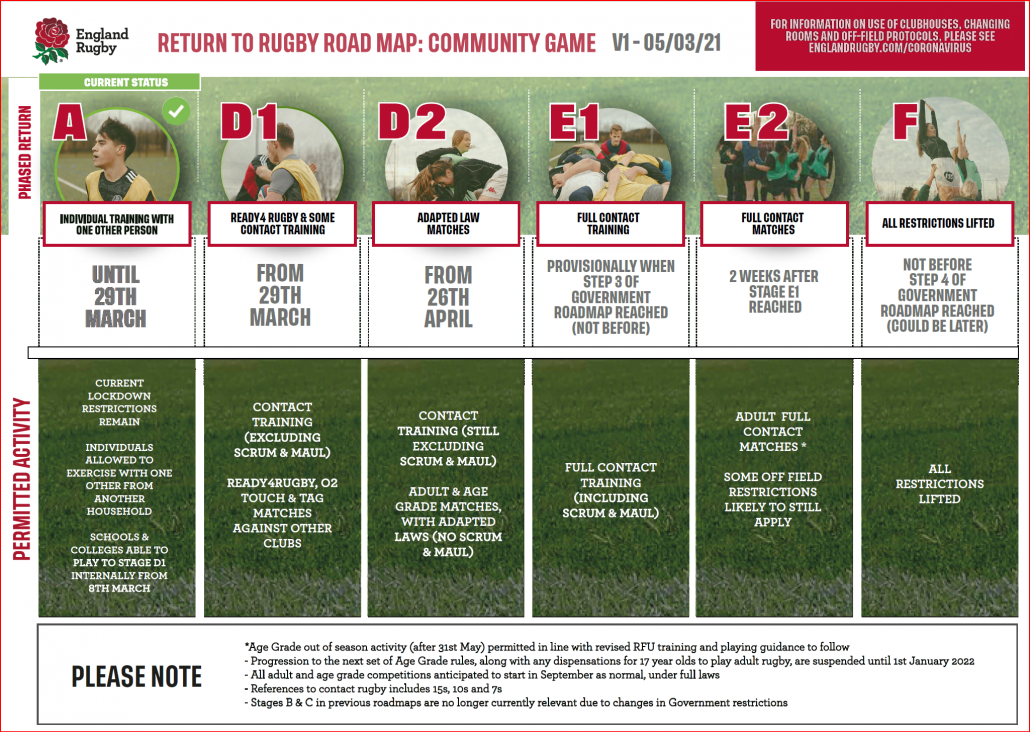 Government confirm community rugby to remain at Stage D2 from 17 May

Unfortunately, despite our best efforts to secure approval, government has not given permission for us to re-instate scrums and mauls in community rugby from next week. This applies to both age grade and adult rugby at level 3 and below.

We must therefore, regrettably, remain at Stage D2 from Monday 17 May until further notice. As per Stage D2 guidance, contact training (excluding scrum and maul) and 15-a-side adapted laws matches may continue.

While we appreciate how frustrating this news will be for the rugby community, we also understand the picture that government and Public Health England (PHE) are currently looking at, with growing concerns around the Indian variant of Covid-19 in England.

Next Steps

We will remain in close contact with government and continue to press for progression to Stage E1, and therefore a move to full contact training, as soon as health guidance suggests this is possible.

In the meantime it is important that we all; CBs, clubs, coaches, players, match officials and volunteers, adhere to all government guidance and do not return to scrums or mauls until we have been given permission to do so. We will keep you informed.

Off-field Guidance

Off-field guidance, which will come into effect on Monday 17 May, is available via our Helpdesk on the button below.