Middlesex Women vs Cornwall match report 15th May 2022
Posted on 18 May 2022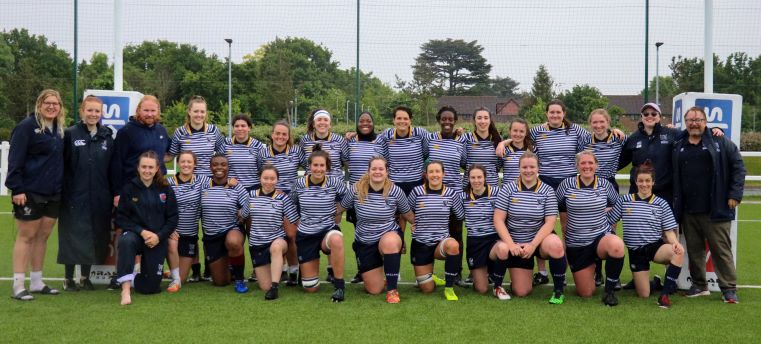 Middlesex Women 5 (0) vs Cornwall 10 (5)
Sunday 15th May saw Middlesex women run out again for their second game of the Gill Burns qualifiers this time against Cornwall. Both teams coming off the back of convincing wins the previous week it was going to be a tight game. Middlesex dominated all aspects of the forwards play form the start but a miscommunication on a penalty kick and the Cornish winger Emma Staffanotti fly hacked the ball through and won the foot race to put the first pints on the board just before the 20th minute.
Middlesex recomposed and even under slippery conditions both teams battled out a true game of end to end play with Middlesex denied points by being held up over the line or a knock on as the ball went down.
Second half was similar in its battle for possession and both teams were relentless in their defence, cancelling out their opposition's attacking play. Prop, Louise Simons managed to break through to even up the score for Middlesex and the game was again anyone's to win. A miss pass gave Amy Buny the Cornish Full Back stopped up the ball and another 50m chase resulted in her placing the ball in the corner to go five points ahead.
It was clear from the points scorers, Cornwall had the dangerous backs and Middlesex dominated the forwards in a game of close margins, both teams held their discipline and were managed extremely well by the match officials. A great game of rugby that could easily have gone either way, Good Luck to Cornwall in their last fixture. Thank you to our coaches on the day led by Gert Robson, Gerry Dolan, Bryony Cleall and our Physio Ellie Pritchard, and to Grasshoppers RFC for their magnificent staff and facilities.
Zainab Alema (Richmond RFC)
Oren Blindell (Richmond)
Louise Simons (Hackney RFC
Catherine Thomas (Kilburn Cosmos RFC)
Jessica Gann (Hackney RFC)
Vicki Tapley (H&F RFC)
Yasmin Bowden (Harlequins Amateurs)
Grace Purnell (C) (Battersea Ironsides)
Zoe Jeffers (Barnes Women RFC)
Justine Despines (Hackney RFC)
Anika Konishi (University College Lon)
Bella Clark (Battersea Ironsides)
Helena Solomon (Streatham & Croydon)
Ehi Edevbalo-Ehizode (Hackney RFC)
Mel Anderson (Streatham & Croydon)
Kaitlyn Hunter (Battersea Ironsides)
Candace Barritt (H&F RFC)
Rose Halstead (Battersea Ironsides)
Lucy Dale (H&F RFC)
MC Anderson (Hackney RFC)
Mia Eldridge   (Wimbledon)
Chloe Eggers (H&F RFC)